Teknics at Pharmacosmetech trade fair 2022 Chartres
After an edition without being able to attend due to the covid situations, we are very pleased to participate again as exhibitors at Pharmacosmetech 2022 and as partners of Polepharma and Cosmetic Valley.
Pharmacosmetech is the trade fair for services, equipment, and processes for the pharmaceutical and cosmetic industries, for perfumery and for fine chemicals.
Although each industry and each production site have its own organisation and process, the event will organise the arrival of decision-makers: project managers, managers, production managers, purchasers and buyers from all over France and other countries.
In this edition, our General Manager Jordi Bolea, our BDM Jordi Carmona and our BDFrance Emeric Dupas will be at Stand C68 to schedule a meeting and share knowledge and doubts about the sector.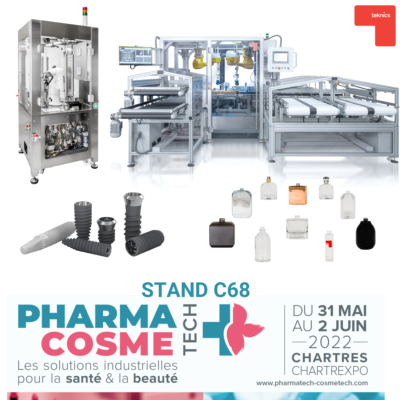 Apart from new technologies such as Deep Learning, Intelligent track… this year we want to highlight our Dental Implants Product (Pharmaceutical sector) and the GlassFeeder (Cosmetics Sector).
The Dental Implant Product is a pick and place with a vibratory table whit vision and robot. A machine that allows a higher inspection capacity than human and prepared to work in continous 24 hours a day.
The GlassFeeder is a very interesting product for perfumists and the Cosmetic Sector. This system that works with glass bottles, enables the automatic feeding of multiple bottle references through the advanced Deep Learning intelligence system.
FAQS Pharmacosmetech 2022
When does Pharmacosmetech take place?
Pharmacosmetech is taking place from 31 May 2022 to 02 June 2022
Where is taking place Pharmacosmetech?
Pharmacosmetech takes place in Chartres, France and is celebrated in the "Parc des expositions de Chartres, Francia"
What is exhibited in Pharmacosmetech?
In Pharmacosmetech we will find the latest news from the pharmaceutical and cosmetics sector, with national and international exhibitors from the Cosmetics and Pharmaceuticals sectors.
Where will be teknics Located?
In the Stand C68. (C68)
https://bit.ly/Pharmacosmetech2022